FREE TN VISA PETITION ANALYSIS WHITEPAPER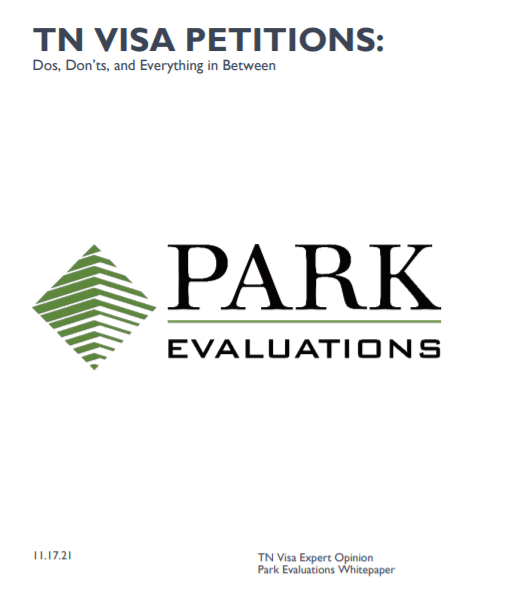 What you'll learn in this whitepaper:
Although the TN nonimmigrant work visa provides citizens of Canada or Mexico an attractive
alternative to the H-1B visa, there are many nuances that petitioners must be aware of when
filing for the TN visa. This whitepaper discusses the specifics of TN visa position and
beneficiary requirements, along with the TN-specific standards as they are set forth by USCIS,
providing a clearer path to TN visa petition success.

This whitepaper will discuss, in detail, the criteria that a position must satisfy to meet USCIS'
definition of a USMCA profession, the common pitfalls to be wary of when filing for difficult
and often rejected USMCA profession classifications, and how a beneficiary can demonstrate
that they meet the criteria necessary for TN visa eligibility. Additionally, this whitepaper will
discuss how Park Evaluations' various TN expert opinion letters can aide in the approval of a TN petition.
What you'll get from this whitepaper:
Recent trends in approval rates and RFE rates for TN visa petitions
Thorough analysis of USCIS' stipulations for complex USMCA professions
Effective strategies and approaches to utilize when filing a TN visa
How Park Evaluations' expert opinion letters can supplement your petition and reduce the risk of an RFE or a denial from USCIS
Thank You!
Your form has been submitted.
Watch the Webinar below